Dimegrove Matramax Mattress Tape edge Machine (new)
Ref: 0000091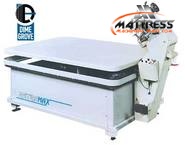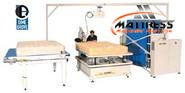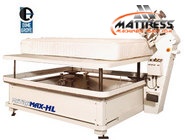 www.mptgroup.com High Speed Electronic Tape Edge machine The Best Selling Tape Edge Machine in The UK
Details
High Speed Electronic Tape Edge machine

Innovative design in Tape Edge Machine technology makes Matramax the leader for mattress producers in the world today.

Power assisted carriage movement.

Variable speed straight-line control.

Variable corner-speed facility.

Powered head positioning control.

Needle cooling system.

Tape feed synchronisation system.


All the controls necessary to operate the Matramax Tape Edge Machine are mounted on one single ergonomically designed control pod.