MPT Group Bordamax Vertical Stitch Border Machine(new)
Ref: 0000090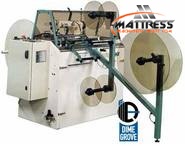 www.mptgroup.com Computer Controlled Vertical Border Machine This computer controlled Vertical Stitch Border Machine utilises a Juki high speed double lock chain stitch, self lubricating sewing head.
Details
It automatically hems the mattress border as it produces high quality vertical stitched mattress borders up to 260mm wide.

20 inch (500mmm) model also available for vertical stitching of divan borders.