Pocket Spring Machinery (New)
Ref: 0000171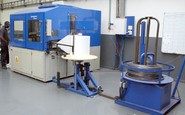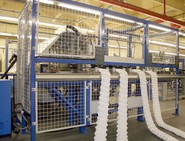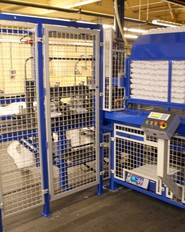 These state of the art Mattress Pocket Spring Machines now run fully automatically at up to 100 springs per minute. They can be designed to produce a range of spring heights from 8cm up to 25cms, in a range of wire gauges from 1.3mm to 2mm with very little downtime for tooling changes.
Details
Mattress Pocket Spring Coiling and Assembly Machines
Highly accurate computer controled servos dictate the spring geometry, this is easily adjusted by the operator directly inputting the pocket spring's diameter and pitch, spring set up time is therefore reduced to seconds rather than hours, with in-built consistency and reliability.

Sewn Interiors
Traditionally in the UK pocket springs have been sewn together, usually by hand. The centre tie machines automate this process. By having an array of fixed needles and pushing pre-cut rows of springs onto them, the thread position is self-centring. Springs are nested together and spring counts can be up to 2000 in a 2m x1.5m (5' x 6'6").

Glued Interiors
We offer 3 options, each of which can produce parallel, nested and zoned units in 1, 2 or 3 gauges of wire, with single, double or triple lines of adhesive:-
The Versatile Glue Assembler (VGA) combining high volume with spring count flexibility and much more.

The Automatic Glue Assembler (AGA) for ultra high volume production over an agreed range of spring counts.

The hand fed Glue Assembler (GA) for lesser volume production, but with total spring count flexibility.
• VGA
The newest machine in our range, a versatile but powerful solution to all your glued assembly needs. Able to mix springs of different diameters and heights at a rate of up to 360 springs per minute. Fully automatic, yet very competitively priced.
• AGA
This patented process takes the output from 3 DB coilers, automatically selecting the appropriate feed conveyor. It takes the continuous strip of springs, cuts to length, feeds to the multi-nozzle glue gun and then applies the adhesive to all of the springs simultaneously. Consequently it can produce 1.5m x 2m inner springs at a maximum rate of over 20 per hour.
• GA
An operator feeds this machine from pre-cut strips of springs, and can produce at up to 10 interiors per hour. Simple changes in tooling give this machine the ability to process a range of springs from 48mm up to 75mm in diameter.

Competitive Advantage
The smart manufacturing cell of 3 or 4 DB coilers and 1 of our automatic assemblers is a totally integrated resource, taking in raw materials and producing completed innersprings.


For more information on this ground breaking system please contact info@mattressmachinerymart.com or click the enquire button below.