Dimegrove Bordatac Side Stitching Machine (new)
Ref: 0000088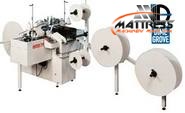 www.mptgroup.com Borda'Tac with 2, 3 or 4 tack facility and vertical stitch on-line targeting system.
Details
The new and innovative BORDA'TAC Mattress Border Side Stitching machine with Vertical Stitch On-Line Targeting System is designed to replicate a luxurious hand-stitched border – the trademark of a high quality mattress.

The BORDA'TAC will produce a mattress border in less than six minutes by operators. It can produce mattress borders with either two or three tack designs on materials up to 255mm wide or on the 4 tack system on borders up to 350mm wide.

Also the machine automatically senses the vertical stitch line created by a Vertical Border Machine and automatically activates the twin sewing heads which stitch directly onto the vertical stitch line.

The BORDA'TAC will enhance the quality of your product and place your company in a profitable and prestigious market sector.